SATTVA
Ayurveda Panchakarma and Yoga Centre – Paradise Lagoon
Sattva – Ayurveda Panchakarma and Yoga Centre is located at a serene environment of Paradise Lagoon. We provide a holistic approach to every individual with the ancient science of Ayurveda and Yoga.

We deliver services based on day appointments and residential packages extending from 2 days, weekends or 7/14/21 or 28 days. The packages include accommodation in ac rooms, food cooked with Ayurvedic principles, Ayurveda therapy, yoga and meditation.
Introduction To Ayurveda
Ayurveda is the oldest system of medicine being more than 5000 years old. Hence, it is the oldest system of medicine. It has 2 words – "Ayur" and "Veda". "Ayur" means life and "Veda" means Science. Ayurveda means the science of life.
An ayurvedic approach to a person is holistic and not symptomatic. If there is a health problem then there shall be an analysis of the root cause of the problem with pulse diagnosis and consultation. Then the conclusion of the diagnosis is made which depends on different factors like body type, imbalances, hereditary factors, etc.
Normally, it is recommended to undergo ayurveda therapies so that the toxins do not settle down and cause diseases in our body. Panchakarma is one of the best, time tested detox cleansing methods. Hence, it is a very important procedure in today's stressful modern world.
Using panchakarma nad detoxing processes, root causes can heal and treat the body, mind and soul with herbs. Hence, the ayurvedic approach is unique and specific to the individual and is not generalized.
The fundamental concept is that this body has come from the 5 elements and goes back to the 5 elements. Everyone has a certain order of the 5 elements which is specific to him and that is called the body type of the person.
It is important to know an individual's energy and physical make up/body types for pulse diagnostics. Then ayurvedic practices can be applied intelligently with oils and ayurvedic preparations suitable for that body type.
Later as a follow-up, the person can try to lead a healthy life by being aware of his diet, lifestyle and habits which suits his body type and eliminate the things which don't.
Sattva Wellness Packages
Ayurveda Packages Available 7/14/21/28 Days.
1. De-Stress
2. Rejuvenation
3. Beauty
4. Weight Loss
5. Panchakarma Detox
6. Arthritis Care
1. De-Stress Package
This package is designed to relieve stress and strain induced due to daily life, stressful jobs and long journeys. This experience shall be a royal journey to absolute healing and wellness.
The 7-day package shall include:
Know your body type with pulse diagnosis
Diet and lifestyle advice and yoga
Any 2 of the following therapies per day

Ayurveda facial
Padabhyanga
Back massage
Shirodhara
Abhyanga massage
Steam bath
Podikizhi
Shiroabhyanga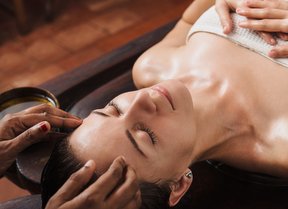 2. Rejuvenation – Rasayana Package
This package aims at slowing down the process of ageing and lengthening lifespan. This will help to rejuvenate and nourish every cell in the body and make one feel more energetic.
The 7-day package shall include:
Know your body type with pulse diagnosis
Diet and lifestyle advice and yoga
Any 2 of the following therapies per day

Abhyanga massage
Steam bath
Shirodhara
Podikizhi
Navarakizhi
Tarpana- Ayurvedic eye care
Ayurveda facial
Padabhyanga
Shiroabhyanga
3. Beauty Package
This package is a special package to treat your skin and get complete care with herbs and special ayurvedic oils which are beneficial for cleansing, exfoliating, nourishing and rejuvenating your skin from head to toe.
The 7-day package shall include:
Know your body type with pulse diagnosis
Diet and lifestyle advice and yoga
Any 2 of the following therapies per day

Ayurveda facial
Steam bath
Podikizhi
Beauty body scrub
Herbal body mask
Ayurveda facial
Padabhyanga
Pedicure and Manicure
4. Weight Loss Package
This package is specially designed for weight loss and to bring your body in shape again by toning up the muscles and skin. A combination of ayurvedic diet, yoga and therapies shall help to reduce weight.
The 7-day package shall include:
Know your body type with pulse diagnosis
Diet and lifestyle advice and yoga
Any 2 of the following therapies per day

Abhyanga massage
Podikizhi
Panchakarma internal cleanse.
Vasthy colon therapy
Steam bath
Padachimpi
Nasya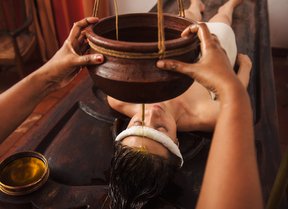 5. Panchakarma Detox Package
Panchakarma is an important method in ayurveda wherein the imbalances of the 5 elements in everyone is analyzed by pulse diagnosis and the suitable detox process done so that the body function comes back to normalcy. Ayurveda has given great importance to Panchakarma and recommends us to undergo these treatments with every season change. Panchakarma has a preventive curative and promotes health benefit. So, it is useful for clients suffering from illness and for healthy individuals who wish to detox and keep hereditary illnesses away.
The 7-day package shall include:
Know your body type with pulse diagnosis
Diet and lifestyle advice and yoga
Any 2 of the following therapies per day

Morning detox medication
Abhyanga massage
Steam bath
Nasya, tarpana
Panchakarma procedure internal for vata pitta or kapha imbalances
Podikixhi
Shirodhara
Shiroabhyanga
Padabhyanga
Padachimpi
6. Arthritis Package
This package is very beneficial to help prevent and improve quality of life for arthritis patients. Arthritis is a chronic ailment. These treatments shall help to reduce the symptoms and prevent further aggravation of the disease. There shall be different treatments implemented depending on the type of arthritis.
The 7-day package shall include:
Know your body type with pulse diagnosis
Diet and lifestyle advice and yoga
Any 2 of the following therapies per day

Janu/Greeva/Kati bridge therapies
Kati vathy
Greeva vasthy
Abhyanga massage
Steam bath
Podikizhi
Back massage
Nasya

For more information, please write to sales@theparadiseisle.co